A word from Senior Pastor 主任牧師的話 :

Let me take this opportunity to welcome you to Brooklyn Chinese Church of Faith Hope Love Assembly of God - a place you can feel comfortable as your spiritual home. Our mission is to fulfill the Great Commission, and our vision is to see many Chinese churches planted in the Tri-State area.
As you visit us on this FHL homepage, we hope it will bring excitement to your hearts. God is good, and He is doing amazing works amongst us. Every week we see lives are touched and changed by God's grace and power.
May God bless you richly.

Rev.Robert Chai

歡迎您來到布碌崙華人信望愛神召會的網站, 也歡迎您來
參與我們的教會 - 一個您可以找到溫馨的屬靈之家 . 我們
的使命是完成主所託付的大使命,也希望看到許多華人教
會在三區兩地被建立起來 .
當您瀏覽信望愛網站時,希望會帶來給您興奮,因為神是極好的,祂在我們中間成就了大事 . 我們看到每週都有人被神的大能恩典摸著和改變 .
願神大大地賜福予您 .

蔡萬生牧師


Main Service 崇拜聚會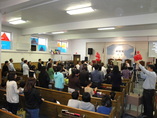 Normally meets on Sundays. This is the time where all members and friends of
Faith Hope Love Assembly meet together to celebrate God's goodness through
praise and worship. So that all participants may rejuvenate and relaunch for the
coming week. Fellowship of the saints is also an important part of the meeting.
崇拜聚會通常於週日進行 .這是所有信望愛神召會信眾一起來敬拜神的時間 .
透過讚美與敬拜 , 我們歡慶神的美善 , 向祂感恩 . 信眾藉此重新得力 ,
為前面一週整裝待發 .信徒相通也是聚會重要的一環 .
---
Youth Service 少年事工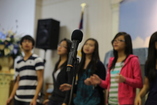 We have a youth service during the main service time. This includes worship, Bible teaching for youth, prayer and having a good time together. We want to teach young people about God and how to live life according to Bible principles. We also have activities or events so our
youth can make good friends and outreach to others in the community. Trips and retreats are also events we invite our youth to attend.
星期日與主日崇拜舉行的同時,我們有青少年人的聚會。節目包括敬拜、聖經真理的教導、禱告和歡樂活動。
我們的心意是讓青少年認識神,並照聖經真理過每天的生活 。我們也有各類活動,使青少年認識更多好朋友,
服事社區中有需要的人。此外,若有大型的聚會和夏、冬令營時,也鼓勵青少年多多參與。
---
Sunday School 主日學校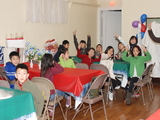 Faith Hope Love Assembly of God church has two Sunday School Classes,
one Junior class aged from 5 to 9 and one Middle class aged from 9 to 12.
Children learn the teaching from the Bible and adopt the teaching to use and
exercise them in their daily life. After they reach to the age of thirteen, they
will be transferred to the Teen Group where the teaching will be continued.
We welcome you to drop off your children at our Sunday School classes to
receive the words from God, meanwhile you may attend the Sunday Service
信望愛神召會有兩個班級,初級班是由年齡五至九歲,中級班是由九至十二歲。主日學生學習聖
經真理的教導,並應用在日常生活中。當他們十三歲時,他們將會被送至少年組繼續另一階段的
學習。我們歡迎您把您的孩子帶來主日學校,同時您可以安心參加我的星期日崇拜聚會。
---
Small Group 小組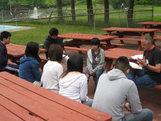 Cell Groups are life groups of the church, consisting of about 8 to 20 people.
Cell groups meet during weekdays, day and time of the week depending on
participating members. Cell meetings normally last for one and a half to two
hours.The purpose of any Cell group meeting includes: praise and worship,
Bible study, ministry to one another ( prayer) , testimonies, and fellowship.
Cell meetings help to apply God's teaching into member's daily life and serve
to strengthen the bond of Christian fellowship which unite the body of Christ.
We gladly and humbly invite you to fellowship with us at any of our cell gathering.
小組是教會的生命細胞,通常由八至二十人組成。小組的聚會是在週間舉行,時間和地點視乎組員
需要。聚會時間通常是一個半至二小時。小組聚會的宗旨包括 : 敬拜讚美、查經、彼此服事
( 禱告 )做見證和相交。小組是引用神話語教訓致日常生活的時間;同時,透過彼此相交,促進基督
身體的合一。我們誠心歡迎您來參加我們任何小組的聚會。
---
Bible Study 門徒班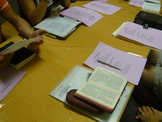 The motto of Discipleship school is " Priesthood of all believers". Meets during
week days, the purposes of the Discipleship School are to train disciples and
empower church leaders, in accordance with command of Matthew 28:19-20
(Great Commission) to make disciples of all nations. Course selected are
practical and caters for the needs of Faith Hope Love Assembly.All who desire
to serve in leadership position in our church need to attend the school.
門徒學校的座右銘是 " 信徒皆祭司 ". 本學校於週間聚會 . 我們的目的是按照 馬太 28:19-20
大使命所吩咐 , 使萬民做主的門徒 , 訓練他們起來成為教會領袖 . 所選的課程是按本會的需要,
以實用性為主 .舉凡願意在本會做領袖事奉神的信徒 , 都應當參加門徒學校 .
---